Want to Own Land, but not sure where to start?
Avoid these common pitfalls and save yourself the aggravation 
Do your homework and understand what you can and can't do with the property you are going to invest.  Save yourself the frustration of purchasing a property you can not use as intended. Research the area and the property and avoid wasting time, money and ultimately spoiling your dreams of land investing.
Thank you for visiting our website.  Our FREE gift to you is How to Avoid the TOP 3 Land Buying Mistakes.
We are here to help and answer any questions you may have about purchasing and investing in vacant land the SMART EASY way.
Owning vacant land could be the single most important way to diversify your portfolio and is an excellent starting point for beginning real estate investors.
I'm excited to assist you in your journey to land ownership.  Looking forward to hearing from you.
Tip #1 – Confirm Ownership
Does the seller really own the property?
So you've found a parcel you want to buy.  That's awesome! First things first.  Once you've decided this property is right for you then call the counties tax recorder or treasurers department where the property is located.
The simplest method is to google county recorder, Another excellent method is to google the county and GIS.  Many times the info can be found right on the web.  Other times you may need to call the county recorder and speak to someoone.  Some counties are not so cooperative so try the County Tax Collector or Treasurer they won't give you the name but often times if you tell them the owner's name they will confirm that is the name they have in their system.
This valuable piece of wisdom will keep you from getting scammed. There are scammers online that will copy real listings verbatim and pose as the seller.  They use a fake FaceBook or Ebay ID and fake escrow company and scam buyers of their hard earned money.
Tip #2 – Property Taxes
Are there delinquent property taxes?
Know what you are getting into before you make that purchase.  Confirm what is owed to the county tax collector. This is not a make or break scenario.   It's important to know how much your total investment will be at the end of the day.
Again, Google the county tax collector or tax treasurer in the county the property is located.  Many times just by having the properties APN number you can look up this information online.  However, I suggest you speak to someone directly at the treasurers office stating you are considering purchasing this property and would like to confirm total property taxes due before you make the purchase.  This way you are getting the most recent information.
Important to note that if you do find out there are past due property taxes on the parcel to ask the seller who is responsible for payment. If the seller agrees to bring the taxes current then be sure to ask for proof of payment.  You can also follow-up with the treasurer to confirm payment.
By researching property taxes before you commit to buy you can save hundreds of dollars and provide peace of mind knowing  before you commit.
Tip #3 – Confirm Zoning
How will you be using the property?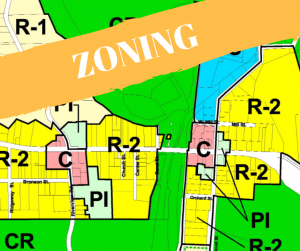 ZONING AND LAND USE
Avoid this common pitfall and save yourself the aggravation and frustration of purchasing a property you can not use as intended.  Do your homework and avoid wasting time, money and ultimately spoiling your dreams of land investing.
Check the zoning and land use codes are in alignment with your building goals.  Is it agricultural, residential, commercial, or industrial zoned? A perfect example, a friend of mine acquired a piece of property that he wanted to park his RV on and live there affordably and peacefully. He was so excited and settled in on the property with his RV. All is going along just fine then after a few months on the property he receives a citation from building and safety saying he must vacate due to violation of zoning laws. Failure to ask the questions can lead to disappointing outcomes down the line.
What if you planned on having horses and agricultural livestock. Well if the property is not zoned agricultural and only residential well your dream of having horses or livestock would be in violation. Don't let that happen to you. Know the zoning and it's allowed uses.
Do your due diligence! Here's how: Look up the County Planning and Zoning Department and speak to someone who can confirm your intentions. Give them the APN number of the property you are investing. Ask them 'What if' questions. Have a list before your call. What uses are allowed? Are animals allowed? If so, what types of animals? Are there maximum number of  houses, horses, livestock allowed? Is there a time limit to build? What is the minimum home size? Are there any set-backs? I think you get the picture.
Bonus Tips
#1: Is the property in a flood zone? Some county websites have GIS maps that show if property is in a flood zone. Using the APN number or owner information you can discover many important items using the GIS map. However, every counties GIS map offers different tools.
#2: Check if the area has any environmental clean up requirements.  Call the county planner violations department to confirm there are no pending issues with the property. This is not typical for residential properties but still a good idea.
Other Important Questions
Is there legal access to the property? Otherwise known as Ingress and Egress.

Does the property have clear title? Are there any liens or encumbrances on the property title?

Does the property have a Home Owners Association to consider?  What are the annual dues? Is there an ownership transfer fee?
I hope you've found this series educational and increased your knowledge tool belt for future land investments. From time to time I offer special discounts to those on my PREFERRED BUYERS LIST. Keep watch and happy land scouting!
Join our PREFERRED BUYERS CLUB and be the first to get notified of NEW and EXCITING BELOW MARKET land deals.
Simply complete the form below to join.  In the comments section please note the state you are interested in buying property.
Your information will be kept confidential and NEVER sold or distributed.  
Subscribe to Hot Deal Mailing List